What's up guys? Guess who's back with another blog post? That's right. ME!
I hope you are all ready, because today I'll be counting down my top 10(ish) favorite female Kpop groups of all time (as of June 2019). Before you check this list out, remember that this is totally my opinion. If one of your groups didn't make it, don't sweat it. I'm a huge girl group fan so I like far more groups than what made it on this list. There are even some groups that tied for certain places on my list. So, if you enjoy this list, just let me know and maybe I'll make a list of the groups that didn't make the cut.
And with that all said… Let's get on to my top 10 list…
Number 10. Laboum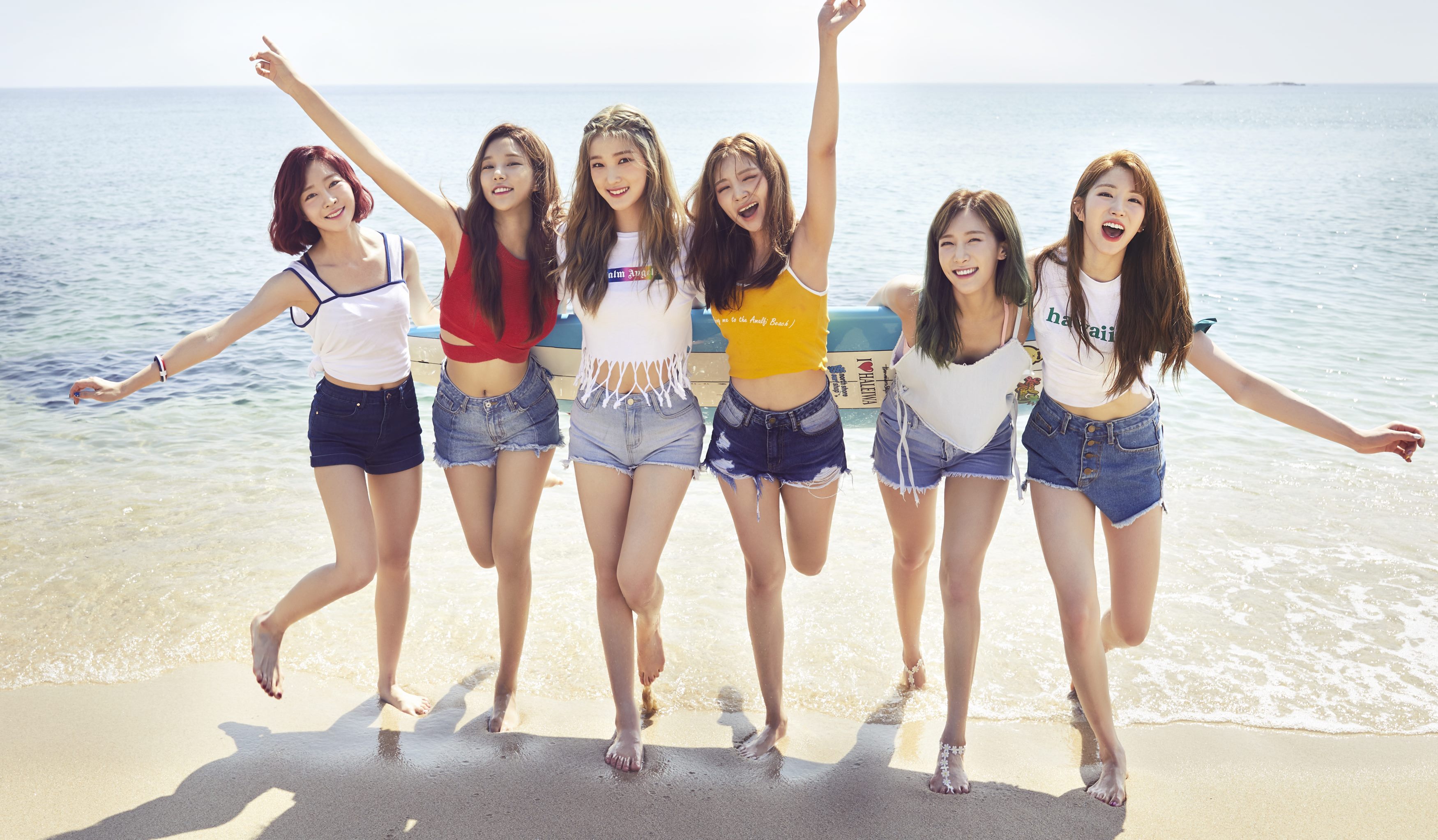 Laboum was originally a 6 member girl group made up of members Yujeong, Soyeon, ZN, Haein, Solbin, and Yulhee. They debuted under NH Media and Nega Network's joint venture Global H Media, and were dubbed a sister group to both Ukiss and Brown Eyed Girls. They are a very special girl group to me.
They were one of the first groups whose debut I witnessed when I was first getting into Kpop back in 2014. Ever since then I've been a huge fan of them, and am always looking forward to the music that they put out. They have since become five members, after Yulhee left the group, but I enjoy them just the same. Some of my favorite songs from Laboum include "Hwi Hwi" (which I linked below), "Between Us", "Turn it on", and so on.
My bias in Laboum is ZN. I knew that I wanted her to be my bias ever since I first got into the group. ZN is such a sweet person. No matter what she is putting in 100%. Whenever I watch their lives, I cannot take my eyes off of ZN. She is a queen, and actually managed to win a spot in The Unit's temporary girl group, Uni.t. I was so proud of her when she managed to do that.
Number 9. Red Velvet
Red Velvet is a girl group formed by SM Entertainment. The group debuted with four members, on August 1, 2014, with the digital single "Happiness". Those members were Irene, Seulgi, Wendy, and Joy. That next year for "Ice Cream Cake" promotions in March 2015, Yeri was added into the group. Red Velvet is known for both of their "red" and "velvet" concepts which influences their styling and the music they release. Their "red" half produces singles predominantly of the pop genre due to its bright and more youthful nature, while their more mature "velvet" concept has spawned tracks primarily R&B in genre. 
I've been pretty interested in them ever since they debuted with "Happiness", but it was Ice Cream Cake that really had me following them as a group. They are such an awesome group of ladies, and I always look forward to see which concept they are going to comeback with. There is so much to love about Red Velvet from their music, to their dancing abilities, to their lovely personalities. What I've always really liked about them is that their top quality music stays consistent. Their B sides are just as good as their title tracks. Some of my favorite songs from them include, "Russian Roulette" (which is linked below), "Body Talk", and "Red Flavor".
My bias in Red Velvet has always been Joy. She is such a precious person, who knows how to slay any concept whether it is "Red" or "Velvet". Not only that, but Joy is actually an extremely talented actress. I enjoy checking out all of her dramas, including "A liar and his lover". Joy is such a cool person, and I can't wait to see what she does next as a member of Red Velvet.
Number 8. Gfriend
GFriend is a six-member girl group formed by Source Music in 2015. The group consists of Sowon, Yerin, Eunha, Yuju, SinB and Umji. They made their debut with the song "Glass Bead" on January 15, 2015. As a group, GFriend won several 2015 female rookie awards and has garnered momentum since their debut despite being from a small company. What really set their popularity off was a fan-cam revealling the girls falling numerous times during a performance, but continuing to get up and dance.
Gfriend is a group who I have been following since their debut, and I really enjoy their music. It is so much fun to listen to, and I often times can listen through their full albums without changing the song. My favorite songs from them include "Fingertip" (which I have linked below), "Navillera", and "Sunny Summer". Not only that, but they are super hard working. That was what really helped me become a fan of them. I'm really proud of them and the work that they have put in to be where they are. I can't wait see what they do next.
My bias in Gfriend is Yuju. She is so gorgeous and I always love watching her in Gfriend's live performances. What really gained my attention was her powerhouse vocals. Yuju can sing, and I am always looking forward to her belting notes like its nothing. Not only that, but Yuju is an extremely powerful dancer. Often times vocalists aren't as strong in the dance department, but Yuju is amazing at everything! That's why she is my bias in Gfriend.
Number 7. AOA
AOA (a.k.a. Ace of Angels) is a girl group formed by FNC Entertainment. Originally, AOA debuted as an eight-member girlband that consisted of members Choa, Jimin, Yuna, Youkyung, Hyejeong, Mina, Seolhyun, and Chanmi. The group had their debut music stage on August 9, 2012, on M Countdown. During this time, they were known as being a group who played instruments, but later became a dance group. Member Choa officially left in June 2017, while Youkyung left from the group in October 2016 following termination of her contract and would be a guest member in any future AOA Black activities. Mina left the group on 13 May 2019 following the termination of her contract due to her personal wishes of pursuing a solo career. The group currently contains 5 members.
AOA is a girl group that may be kind of surprising to have in a top ten list, especially since I'm a girl. I say this, because often times I feel as though girl groups are built to appeal to male kpop fans as opposed to female kpop fans. I feel that is especially the case with AOA who has definitely gone in the more sexy route for their concepts. Still, I really enjoy them, and a lot of their music appeals to my personal tastes. Not only that, but I think that their is an empowerment in women who are willing to show their sex appeal. They are queens honestly. Some of my favorite songs from AOA include: "Good Luck" (which I've linked below), "Super Duper", and "Excuse me".
My bias in AOA is Jimin. What I love about her is her strong rap ability. She has always had some of the best parts in AOA songs, and she has always crushed the solo songs she has released. What I love the most is that her voice is so cute, but she manages to make her raps sound so cool. Jimin has real swagger, and I have always appreciated her as an idol. Jimin is a queen, and I love her so much!
Number 6. Kara
Kara was a girl group formed by DSP Media in 2007. The group originally started off as a quartet, with members Park Gyuri, Han Seungyeon, Nicole Jung, and Kim Sung-hee, and made their debut with the song "Break It". At the time, the girls displayed a strong female image and a mature R&B sound. There were high expectations for the group as they were considered as successors to their senior labelmate, Fin.K.L. However, their debut was not well received by the public and was considered a commercial failure. The next year, Kim Sung-hee left the group due to parental pressure, and members Goo Hara and Kang Jiyeon were added to the lineup. The group changed their musical style, and followed "pretty but natural" concept. This helped them find success as a group.
In 2014, Nicole Jung and Kang Jiyoung decided not to renew their contracts with DSP Media thus leaving the group to pursue their own endeavors. Following their departures, a reality show Kara Project was aired on TV to select members to join the group. Seven trainees from DSP Media took part in the program. The winner of the competition was Heo Youngji who became the latest member to join the group finishing the groups final line up with members Park Gyuri, Han Seungyeon, Goo Hara, and Heo Youngji. On January 15, 2016, Kara disbanded after DSP Media announced that the contracts with Park Gyu-ri, Han Seung-yeon and Goo Ha-ra expired and they decided not to renew their contracts.
Kara is one of those groups that took me until they officially disbanded until I actually got into them. I'm not exactly sure why it was like that. My best guess is that I was still like only a year into getting into Kpop back then, so they weren't a group that managed to get on my radar. Now, I think that they are super awesome, and I can totally see why they were so huge back in the day. Some of my favorite songs from them include, "Mamma Mia" (which is linked below), "Step", "Mister", and "Break it". I'm praying for the day that they have a reunion. Until then, let's just wish for all of the members remain mentally and physically healthy.
My bias in Kara is Seungyeon. She is literally so adorable. I think what really stands out to me is her vocals. Seungyeon wasn't always meant to be Kara's main vocalist, but she really stepped up to do her part for the group. Her voice is super powerful, and I love the solo songs that she has been able to put out. Not only that, but I've also enjoyed seeing her branch out as an actor. Seungyeon is a triple threat and I can't wait to see what she does next.
Number 5. Twice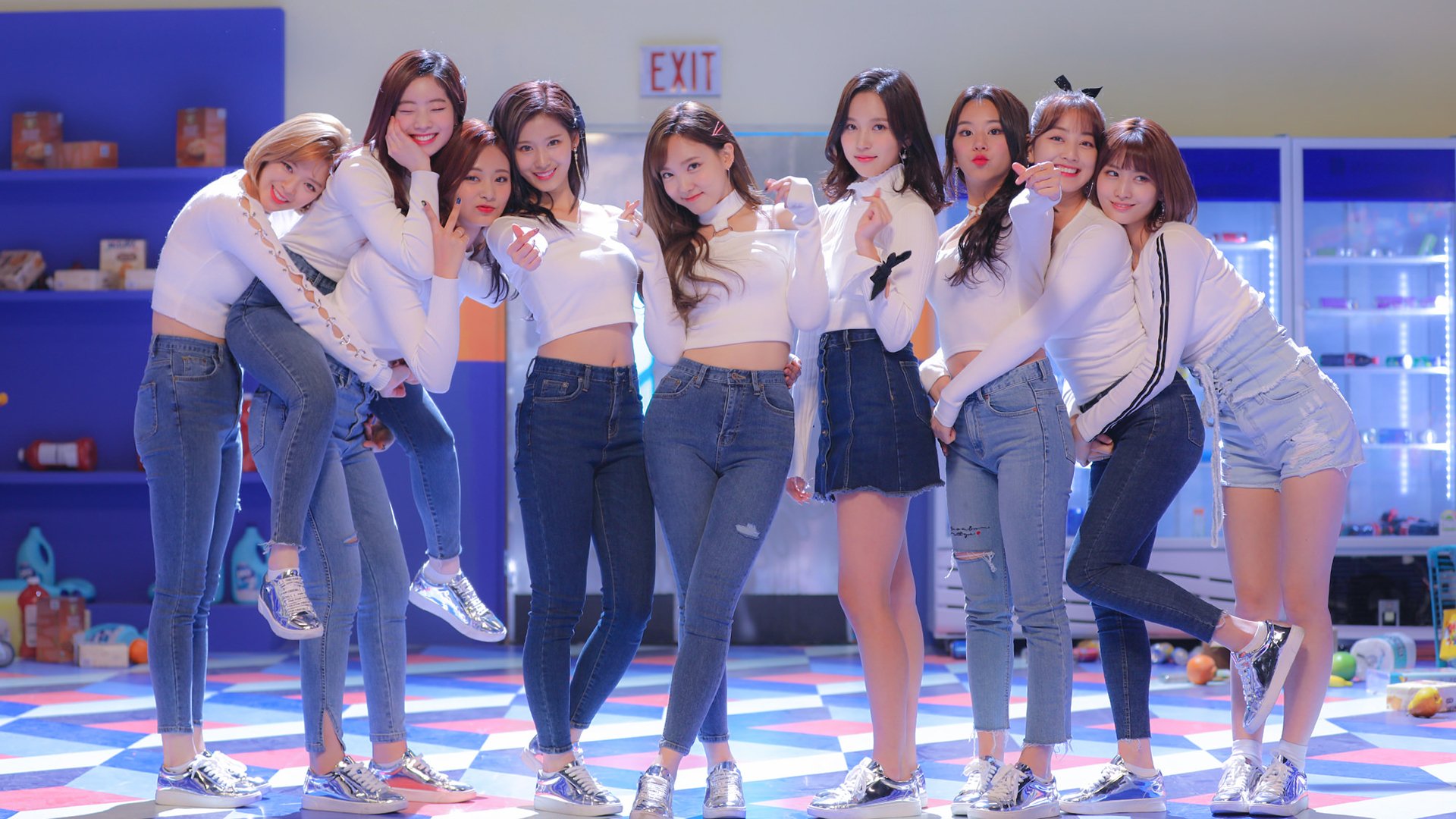 Twice is a girl group formed by JYP Entertainment through the 2015 reality show Sixteen. The group is composed of nine members: Nayeon, Jeongyeon, Momo, Sana, Jihyo, Mina, Dahyun, Chaeyoung, and Tzuyu. The group debuted on October 20, 2015, with the EP "The Story Begins". Twice rose to fame in 2016 with their single "Cheer Up" which charted at number 1 on the Gaon Digital Chart and became the best-performing single of the year. Within 19 months after debut, Twice has sold over 1.2 million units of their four EPs and special album.
The group officially debuted in Japan on June 28, 2017, under Warner Music Japan with the release of their first compilation album #Twice. The album debuted at number 2 on the Oricon Album Chart, which sold 136,157 copies within seven days, the highest first week album sales of a K-pop artist in Japan in two years. With over 250,000 unit sales, Twice became the first Korean girl group that earned Platinum certification by the Recording Industry Association of Japan for both an album and a CD single in the same year.
Twice is one of those girl groups that you either like or don't like. I think it might be because they have completely embraced the cute concept. This has never actually bothered me, and I have always enjoyed the releases that they put out. They are a very popular group right now, and I know that they work really hard to prove that they belong on top. I really enjoy them. My favorite songs from Twice include, "TT" (which is linked below), "Likey", and "What is love?".
My bias in Twice is Jihyo. She is the definition of a hard worker. This girl trained to be in an idol group for 10 years, and worked her butt off to prove that she belonged in Twice. I'm so proud to see her rise as an artist. There may have been times where people have tried to put Jihyo down for her looks or her talent, but she doesn't let it get to her. Jihyo is amazing, and she had lead the rest of Twice really well.
Number 4. Dreamcatcher
Dreamcatcher is a seven member girl group formed by Dreamcatcher Company. The group lineup consists of members JiU, SuA, Siyeon, Handong, Yoohyeon, Dami and Gahyeon. They officially debuted on January 13, 2017, with the single album Nightmare. Dreamcatcher was originally formed under the name MINX, consisting of five members: JiU, SuA, Siyeon, Yoohyeon, and Dami. They released their debut single "Why Did You Come to My Home?" on September 18, 2014. In November 2016, they announced that they were to re-debut in 2017 under the new name Dreamcatcher with the addition of two new members, which ended up being Handong and Gahyeon.
Dreamcatcher is a group that is nothing like most girl groups that we see nowadays. With music following the rock genre, and concepts that follow dreams and nightmares, they are definitely proving that girl groups are more than just sex appeal. Not only that, but these girls are extremely talented. They can dance. They can sing. They are the sweetest humans ever. I really hope that they can grow in popularity because they are so different from current groups. Some of my favorite songs from Dreamcatcher include: "Piri" (which I linked below), "You and I", and "Fly High". If you haven't checked this group out yet, you need to.
My bias in Dreamcatcher is Yoohyeon. She is the member that I think has so much going for her. She's super talented singer and dancer. I think she's always been the one that has caught my eye both in music videos and in live performances. There is so much swagger to her, and I truly love that. Yoohyeon also just has a great lovable personality too. She's wonderful.
Number 3 (TIED). Mamamoo
Mamamoo is a girl group formed by RBW (formerly WA Entertainment) in 2014. The group officially debuted on June 19, 2014 with the single "Mr. Ambiguous". Their debut was considered by some critics as one of the best K-pop debuts of 2014. They are recognized for their retro, jazz, R&B concepts and their strong vocal performances. Not only this, but they have managed to gain a large following of female fans due to their "Beagle" concept.
Mamamoo is a girl group that could never put out a bad song, despite constantly experimenting with their sound. They are extremely talented vocalists, who sound great both live and on CD. Not only that, but they are the type of girl group that can steal your heart with their goofy personalities. Their personalities is something that I love most about Mamamoo. Often times, girl group are forced to present the "perfect girlfriend" sort of persona for audiences. Mamamoo has never seemed to care about this idea, which makes them relate-able to many girls, like myself. Some of my favorite songs from them include: "You're the best" (which is linked below), "Egotistic", and "Yes I am".
One of my biases in Mamamoo is Solar. She is such a phenomenal singer. Granted, all of the girls are, but Solar's voice is so powerful. I always look forward to listening to her sing. Not only that, but she is so sweet, and silly. She has such a lovely personality. She has also always been the member that has managed to stand out to me whenever they are doing performances. She is such a goddess.
My other bias in Mamamoo is Moonbyul. She is just such an amazing rapper. Her voice is so cool, and it is different from many female rappers in Kpop. Moonbyul also has a swagger that can rival boy groups. Girls go crazy whenever they see her, and that makes me so proud. Moonbyul is also such a great person. She is very chill, and laid back. I'm also so impressed with the fact that she can sing just as well as she can rap. She has shown that there is so much to her as a performer, and I love seeing that growth.
Number 3 (TIED). Sistar
Sistar was a girl group formed in 2010 by Starship Entertainment. The group lineup consisted of members Hyolyn, Bora, Soyou, and Dasom. They debuted with the single "Push push". Their first studio album So Cool was released on 9 August 2011, and help build their fame as a group. They are often best known for their summer releases which have gained a lot of popularity with both Korean and international audiences. They ended up disbanding in 2017 after their contracts ended under Starship Entertainment.
Sistar is a group who really defied expectations as a group. They come from a small company, and, when you are not under the big 3, finding success a Kpop group can be challenging. Sistar managed to crush charts with so many awesome songs. What I think really stands out to me about their ability to be considered beautiful despite not technically achieving every beauty standard that exists in Korea (i.e. pure white skin). Sistar is amazing, and I appreciate the fact that they have kept in contact with each other despite no longer being in a girl group. They are pretty amazing. Some of my favorite songs from Sistar include: "Touch my body" (which is linked below), "Loving U", and "Shake it".
One of my biases in Sistar is Bora. She is just such a lovely rapper. Her voice is super sweet, which helps create Sistar's amazing sound. I also think that she is just such a bright person. She is friends with a lot of idols outside of her group, and that is no accident. Bora is a wonderful friend and a wonderful performer. I love being able to have gotten see her as a part of Sistar.
My other bias in Sistar is Hyolyn. She is another great example of a powerful vocalist. Her voice is so amazing, and she has great control whenever she sings. What I also appreciate about Hyolyn is that she is not afraid of showing the sexy side of her. She embraces who she is, and I appreciate that. Hyolyn is also not afraid to try new things, which is why she decided to create her own Kpop company. I think that is super awesome.
Number 2 (TIED). EXID
EXID (short for "Exceed in Dreaming"), is a girl group South Korean formed in Febuary 2012. The group currently consists of five members: Solji, LE, Hani, Hyelin, and Jeonghwa. Although they debuted in 2012, it was not until 2014 that the group unexpectedly gained popularity with the single "Up & Down", which reached number one on the Gaon Singles Chart four months after release due to a fan-recording of a live performance becoming a viral video. EXID released their second EP Ah Yeah in April 2015, to commercial success. They followed this with their first studio album Street (2016) and the EPs Eclipse and Full Moon (2017).
EXID is another group of ladies that are totally awesome. Just like Mamamoo, they have managed to figure out how to appeal to female fans, which is not easy for girl groups to accomplish. What I appreciate about this group is that they have such a close bond, and really truly care about each other. Not only that, but they are goofballs as well. I think that's what really appeals to me, as I could totally picture these girls as my best friends. Not only that, but a lot of their music has topics girls can relate to. They incorporate lyrics that encourage women to be vocal in relationships. Not only that but they make sexy concepts look so dang cool. Some of my favorite songs from EXID include: "Lady" (which is linked below), "Ah yeah", and "Cream".
One of my biases in EXID is Hani. She is probably one of the most relate-able Kpop idols ever. That's why she does so well in variety show programs. She's always goofing around, and making others laugh. I could watch her being herself for hours. Hani is also extremely intelligent, and knows how to put on a show for audiences. It is her swagger that made EXID popular, and I am really interested to see what she does in solo endeavors.
My other bias in EXID is Hyelin. She is such an adorable person. Like Hani, she is such a goofball, and sometimes its hard for other members to control her. I always love watching her perform. Her voice has grown tremendously over the past few years. She works really hard, which was shown when she had to step in as a main singer while Solji was on hiatus. Hyelin is such a queen, and I love her so much.
Number 2 (TIED). miss A
Miss A is a girl group formed by JYP Entertainment on July 1st of 2010. Their lineup consisted of members Fei, Jia, Min, and Suzy. Their debut single "Bad Girl Good Girl" crushed records, and Miss A became the fastest girl group to take the #1 spot on a music show. Jia and Min left the group in May 2016 and November 2017, respectively, before the group officially disbanded on December 27, 2017.
Miss A is one of the first girl groups after Girls' Generation that I really got into. They have so many great songs, and I really enjoy watching them on stage. Not only that but their B sides were always just as catchy as their title tracks. What I also really enjoyed about them was that I was always able to find songs from them that I could really relate to throughout my life. My favorite songs from Miss A include: "Only You" (which is linked below), "Goodbye Baby", and "Hush".
My bias in miss A is Suzy. She has been my bias ever since I saw her on Dream High (which is my favorite Korean Drama). On the show, she wasn't the nicest character, but I enjoyed seeing her grow. Suzy has also grown as actor tremendously, and so I'm always interested in seeing what she does next in acting. Not only that, but she's a great singer. I love the stuff that she has released as a solo artist, and the stuff that she wrote for miss A.
Number 1. Girls' Generation
Girls' Generation, also known as SNSD, is a girl group formed by SM Entertainment. Originally a nine-piece group, the lineup was composed by members Taeyeon, Sunny, Tiffany, Hyoyeon, Yuri, Sooyoung, Yoona Seohyun, and Jessica. They debuted in August 2007 with the single "Into the New World". It wasn't until 2009 that the group rose to fame with the single "Gee", which was named the most popular song of the 2000s in South Korea. They are deemed one of the prominent figures of the Korean Wave and one of the most popular K-pop acts internationally.
Their popularity later earned them the nicknames of "The Nation's Girl Group" and "The Nation's Singers". As a group, they have won numerous awards and accolades. Later, in 2014, Jessica ended up leaving the group (the circumstances of why this happened is often debated), and Girls' Generation became an 8 member group. In 2015, they became the first artist to accumulate over 100 wins on all of the music programs in South Korea. Then, in 2017, they released a sixth full length album "Holiday Night" to celebrate their 10th anniversary.
Girls' Generation is undoubtedly my favorite group of all time, I mean, of all groups both boy and girl (internationally as well). They were the group that got me into listening to Kpop, and I am so thankful for that. As a group, they are so iconic, and they are often times the group for younger girl groups to emulate. I'm so proud of all of the accomplishments that they have achieved over the years that they have been a group. Their work and success is what drives me to do my best in my own life. They are so inspirational, and I can't wait to see them come back together to put out more music. My favorite songs from Girls' Generation includes: "Girls' Generation" (which is linked below), "Tell me your wish (Genie)", and "Into the New World", but that just scrapes the surface of my favorite songs from them. They are my ultimate queens and always will be.
My bias in Girls' Generation is Tiffany. Just like her group, Tiffany inspires me so much. As a Korean-American Kpop idol, Tiffany hasn't always had it easy. She has had to learn a second language, live in a new country on her own, and adapt to life without a mother to rely on. Despite her hardships, she has never stopped being a bright person, and her hard work has always paid off. I'm so proud of the accomplishments that she has achieved both in Girls' Generation, and when she does solo work. I really wish that I could be her when I grow up.
And that was my top ten favorite Kpop girl groups list as of June 2019. I hope that you enjoyed reading it. Let me know what you thought down in the comment section below. Also, feel free to tell me what your favorite groups are. I would love to hear from you all. Thanks again for checking out this blog post. I hope that you will drop by again soon! ^_^