Hey guys! Here I am once again after a month and a half of radio silence.
I'm so sorry about the lack of blog posts as of late. I've been super busy lately, but I'm super excited to be back to write some more posts. And to celebrate my return, I've decided to do a countdown of my top 10(ish) favorite Kpop boy groups of all time (as of August 2019). Now, before I move on to this list, I would like to mention that this is totally my opinion. If your favorite group didn't make this list, that doesn't mean that I don't enjoy them too. In fact, if you are interested, I'm totally happy letting know what other boy groups I like in a later post. With all that said, let's go on to my top 10 list…
Number 10 (TIED). BTS
BTS, also known as the Bangtan Boys, is a seven-member boy band formed in 2013 under Big Hit Entertainment. Originally created to be a hip hop group, their musical style has since evolved to include a wide range of genres. Their lyrics, often focused on personal and social commentary, touch on the themes of mental health, troubles of school-age youth, loss, the journey towards loving oneself, and individualism. Popular for their live performances, the group have staged several world tours. By 2017, BTS crossed into the international music market, leading the Korean Wave into the United States and breaking numerous sales records, becoming the first Korean group to receive a certification by the Recording Industry Association of America (RIAA) with their single "Mic Drop". The band is the first and only Korean act as of 2019 to top the U.S. Billboard 200
I got into BTS back in 2014 during their War of Hormones era. What really drew me to them was their goofy and charming personalities. There have been times where I find myself lost in watching compilations of them being silly, and I really enjoy tat about them. Not only that but I have always looked forward to see what they will release when it comes to music. They have since gained a lot of popularity throughout the years, and I have really enjoyed seeing their growth as group. Some of my favorite songs from BTS include "Boy in Luv" (which I have linked below), "Dope", "Fire" and so on.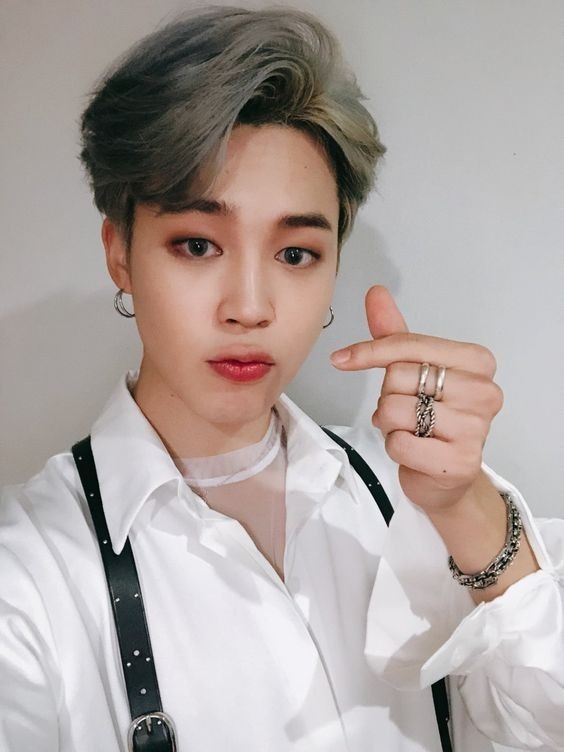 My bias in BTS is Jimin. What drew me to Jimin is his charisma when he is performing. No matter who is singing, Jimin has the ability to pull my attention away just by dancing. Not only is he a great performer, but he is also super sweet. Jimin is too adorable. I love watching variety shows with Jimin, because of his loveable personality. That's why he is my bias in BTS.
Number 10 (TIED). EXO
EXO is a Kpop Boy band created under SM Entertainment. Originally a 12 member boy group, they debuted in 2012. Their lineup consisted of members Xiumin, Suho, Lay, Baekhyun, Chen, Chanyeol, D.O, Kai, Sehun, Kris, Luhan, and Tao. Their music incorporates genres like pop, hip-hop, and R&B, alongside electronic dance music genres.The band ranked as one of the top five most influential celebrities on the Forbes Korea Power Celebrity list each year from 2014 to 2018, and have been named "the biggest boy band in the world" media outlets. After the departures of Kris, Luhan, and Tao amid legal battles in 2014 and 2015, the band continued with the remaining nine members. Since 2016, Chen, Baekhyun, and Xiumin have also released music and performed as a sub-unit named EXO-CBX. Later in 2019, Sehun and Chanyeol also debuted as a subunit named EXO-SC. All of Exo's members also maintain solo careers in fields including music, film, and television.
EXO was one of those HUGE boy groups when I first got into Kpop, and to be honest I didn't understand it at first. Songs like "Mama" and "Wolf" didn't really catch my attention, and it wasn't until I heard the song "Growl" that I realized how much I enjoyed their music. EXO has since grown a lot as a group. They have released so much music, and their abilities as a group has really kept my attention throughout the years. I really enjoy seeing their stages whenever they perform on music shows. Some of my favorite songs from EXO include "Love me right" (which I have linked below), "What is love", "Kokobop", and so on.
My bias in EXO is Kai. He is another Kpop singer who drew me in with his ability to perform. No matter what is going on in a performance, Kai manages to pull my attention with his ability to dance. Not only that but his smile is super charming. He is so handsome, and sweet. I love Kai. I am also happy to mention that he and I share birthdays so we were basically meant to be when it comes to choosing a bias.
Number 9. Day6
DAY6 is a boy band formed by JYP Entertaiment in 2015. The band's lineup is composed of five members: Jae, Sungjin, Young K Wonpil, and Dowoon. Originally a six-piece band, Junhyeok later departed from the band in February 2016. The band debuted with their first mini-album, The Day, with lead single "Congratulations", on September 7, 2015.
Day6 is one of the few groups on this list that I was able to see perform live, and I think that was what made me fall so hard for them as a band. They are amazing, and I am always excited to hear the new music that they release. Not only this, but they are so silly. I love seeing their interactions as a band. They are another group that I could watch video compilations of for hours. As a band, I want so much for them, and I hope that they are able to become more popular as time goes on. My favorite songs from Day6 include "Shoot me" (which I have linked below), "Congratulations", "I wait", and so on.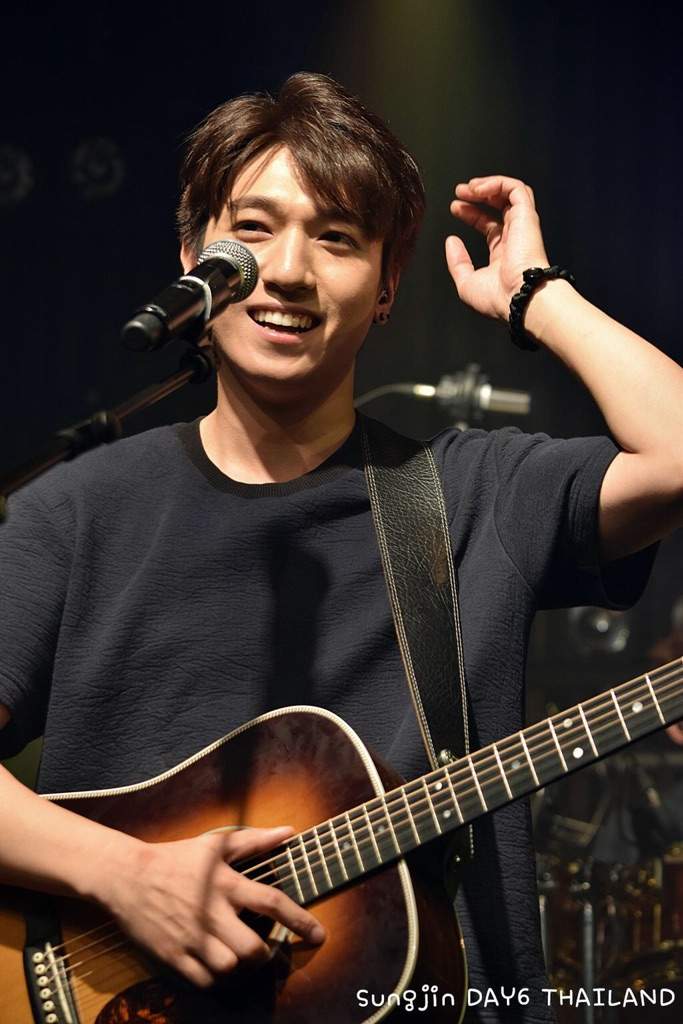 One of my biases in Day6 is Sungjin. He is such a character. What I love about him is his charming personality. He is so silly, and doesn't care about what he looks like. Despite this, I think he is super handsome (just look at this picture of him!). He can also sing and play the guitar, which just steals my heart. A lot of my favorite parts in Day6 songs are sung by him. I love Sungjin so much.
My other bias in Day6 is Dowoon. He stole my heart in a different method than Sungjin. Dowoon is the drummer of Day6, and he is super amazing. What truly stole my heart though was he absolutely adorable personality. In fact, I got to meet him during a Hi-touch session at a Day6 concert, and his loveable personality was shown even then. If I could adopt a Kpop star to be my son, I would have to adopt Dowoon. Granted, we about the same age, but he's just so sweet I wouldn't be able to help it!
Number 8 (TIED). Stray Kids
Stray Kids is a boy band formed by JYP Entertainment through the 2017 reality show of the same name. The group lineup consists of nine members: Bang Chan, Woojin, Lee Know, Changbin, Hyunjin, Han, Felix, Seungmin, and I.N. The group released a predebut EP Mixtape (which contained songs that were performed on their reality show) in January of 2018, and officially debuted on March 25th with the EP I Am Not. I Am Not debuted at number four on Gaon's Album Chart and sold over 54,000 physical copies in March.
Stray Kids are such a cool group of boys. They are all extremely talented, and I really like the fact that they write a lot of their own music. I can see them going super far as a boy group, and I look forward to seeing where they go as a band. They are another band that I got to see perform live at KCON back in 2018, and I am so happy that I got that opportunity. If given another chance, I will definitely watch them perform live again. They are such a great boy band! Some of my favorite songs from Stray Kids include "My Pace" (which is linked down below), "District 9", "Miroh", and so on.
One of my biases in Stray Kids is Bang Chan. He is the member that totally charmed me with his performance ability. I love watching live stages with, and I find his Australian accent super adorable. What I also enjoy about Bang Chan is the fact that he is that he helps write a lot of the music that Stray Kids releases. Bang Chan is wonderful. I love what he adds to the group so much, and I hope that I get to see him perform live once again.
My other bias in Stray Kids is Woojin. What made me fall for him was easily his adorable face, and his singing voice. Whenever I am listening to a Stray Kids song, I am always looking forward to Woojin's parts as they are often times my favorite. He is such a great member and I love him so much. He is just too cute, and that's what makes him one of my biases.
Number 8 (TIED). Golden Child
Golden Child is a boy band formed by Woollin Entertainment in 2017. The group debuted on August 28, 2017, with their EP, Gol-Cha! and the title track "DamDaDi". Originally an eleven-piece group, the line up consisted of members Jaeseok, Daeyeol, Y, Jangjun, TAG, Seungmin, Jaehyun, Jibeom, Donghyun, Joochan, and Bomin. Park Jae-seok later departed from the group in January 2018 due to health issues.
Golden Child is probably the most precious boy group that I have ever laid eyes on. All of them, LITERALLY ALL OF THEM, are so adorable. I got to see them perform at KCON back in 2018, and they literally stole my heart. It was bad, like I was about to cry because they are so cute. Not only that, but they are great dancers and performers. You can tell that they come from the same company as Infinite, because a lot of the same components are there. If you are not a fan of Golden Child, I suggest you check them out because they are so great. Some of my favorite songs from Golden Child include "It's U" (which is linked below), "Genie", "Crush", and so on.
One of my biases in Golden Child is TAG. He is such a talented member in the group. What I like about TAG is his ability to draw my attention whenever they are performing on stage. Not only this but he is also super kind, and charming. He always stole my heart whenever he does interviews of any kind. When he went to Kcon he was one of the members to make sure to thank the audience for coming to see the show.
My other bias in Golden Child is Jangjun. He is so handsome, and I find him so interesting to watch when performing. Jangjun is also a super sweet member. He was ready to thank fans for coming to see him while at Kcon, just like TAG was. He also had pretty great English, which was pretty impressive to me. I love Jangjun so much. He is so precious.
Number 7. Vixx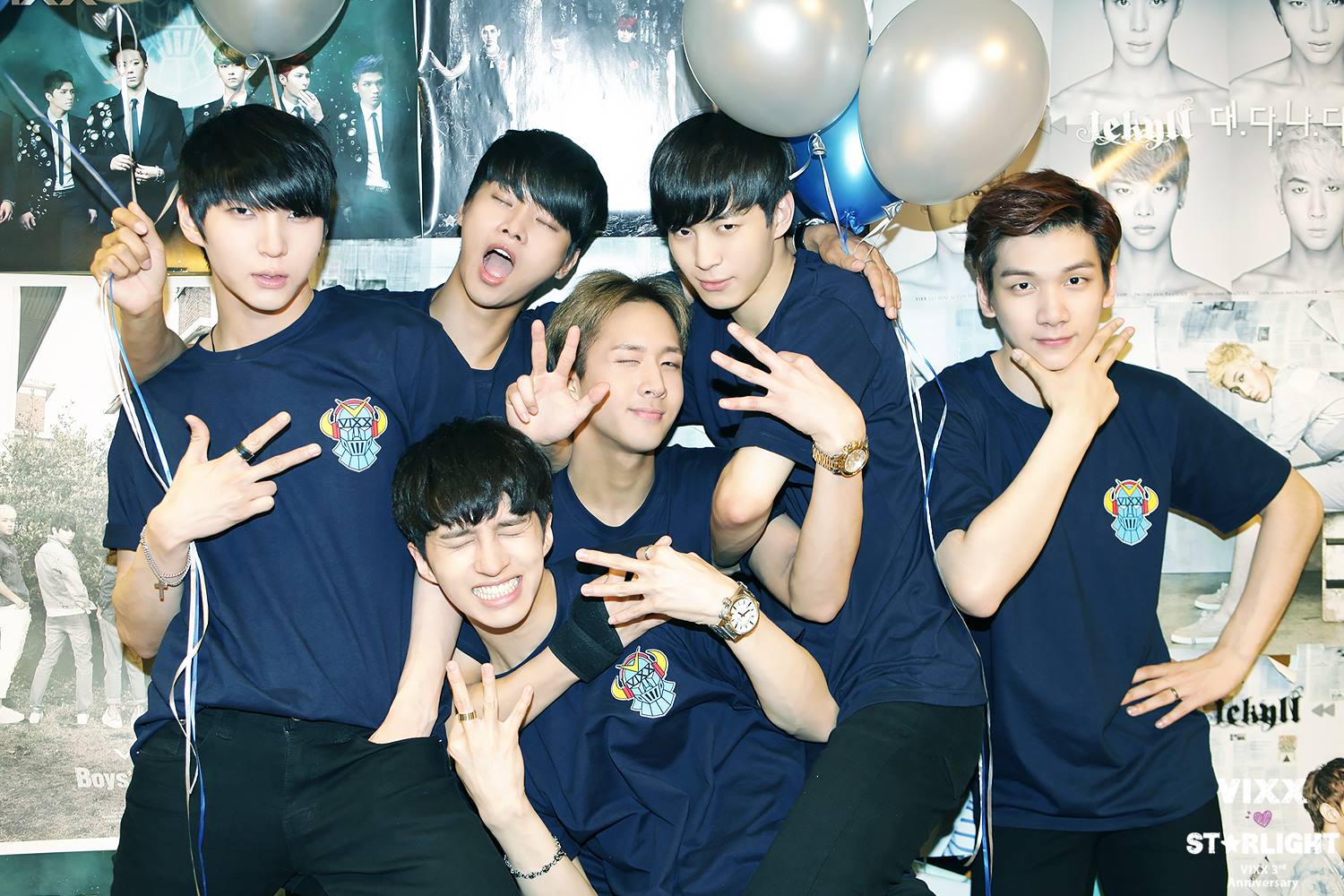 VIXX is a boy band formed by Jellyfish Entertainment through the 2012 reality show MyDOL. The group is composed of six members: N, Leo, Ken, Ravi, Hongbin, and Hyuk. They are predominantly known as a concept or performance group whose music, lyrics, choreography, and overall stage performances are crafted together to tell a story or concept .
Oh VIXX. They are probably one of the sexiest group of boys that I have ever laid eyes on. Watching VIXX music videos and music show performances online has made me feel so many things. They are amazing. I would probably die if I ever got the opportunity to see them perform live. Aside from that, they are such a great group of boys. The members of VIXX have great personalities when they are not performing. I live for VIXX. They are so fantastic. Some of my favorite songs from this group include "Chained Up" (which I have linked below), "The Closer", "Scentist", and so on.
My bias in VIXX is Hongbin. He was one of those members that was so charismatic. Whenever I watch VIXX perform, I constantly find myself drawn to Hongbin. Not to mention he is super handsome! I can't help but have such a big crush on him. He's also a really talented actor as well as a singer. Hongbin is just so awesome. I love him so much!
Number 6. CNBLUE
CNBLUE is a pop rock band formed in 2009. The band consists of members Jung Yonghwa (leader, guitar, main vocals, rap), Lee Jonghyun (guitar, vocal, and keyboard), Kang Min-hyuk (drums), and Lee Jungshin (bass). CN is an initialism for Code Name, while BLUE is a backronym for burning, lovely, untouchable, and emotional. BLUE is meant to portray the images of the four band members respectively. On January 14th, 2010, CNBLUE debuted in Korea with the title track "I'm a Loner" from their first Korean EP Bluetory.
The only other Kpop band on this list, CNBLUE has always had a special place in my heart. They are also super handsome, and their music is always something that I can get up and dance to. They are another group of silly boys. Granted this group has had its fair share of controversy with some of the members, but I try to keep my feelings on that separate as it's not the entire band who did something wrong. I really like CNBLUE though. They have put out a lot of great music over the years, and I hope that the band is able to go on despite the issues that they have faced. Some of my favorite songs from this band include "You're so fine", "I'm a loner", "Cinderella", and so on.
My bias in CNBLUE is Yonghwa. He is actually the reason that I was able to get into CNBLUE in the first place. I first fell in love with him while watching the Kdramas "Heartstrings", and "You are beautiful". His charm as an actor led me to listen to his music and fall in love with the band. Yonghwa is super handsome, and he also played a great husband to Seohyun from Girls' Generation. Yonghwa is amazing!
Number 5. Infinite
Infinite is a boy band formed in 2010 by Woollim Entertainment. Originally a seven member group, the line up consisted of members Sungkyu, Dongwoo, Woohyun, Sungyeol, L, Sungjong, and Hoya. Infinite debuted in 2010 with the mini album First Invasion. The lineup later became six when Hoya left the group in August 2017.
Infinite is a boy group that just mesmerizes me. Their dance ability ranks at number one for me, and their a lot of boy groups on my list that are known for being amazing dancers. There is just something about the way Infinite moves that truly steals my heart. Their moves are all so clean and tight. It is hard to find the weakest dancer for me at times. Not only do I enjoy their dances moves, but their music has also always been super amazing. They almost sound like they belong to a movie sound track or from a different musical era. Infinite is a boy group all their own and I just love them. Some of my favorite songs from Infinite include "Last Romeo" (which I have linked below), "Man in Love", "Bad", and so on.
My bias in Infinite is Sungkyu. He is definitely a strong vocalist, and that is what I think drew me to him when I chose him as my bias. He is a very talented singer, and I tend to really like his parts in the songs that Infinite performs. What really won me over about him was his solo activities. It was during these moments that I got to see a new side to Sungkyu. Some of my favorite Kpop songs are sung by him. Sungkyu is fantastic!
Number 4. Vromance
Vromance, stylized as VROMANCE, is a vocal group formed by RBW in 2016. The group lineup consists of four members: Janghyun, Hyunkyu, Chandong, and Hyunseok. Prior to debut, the members all worked as vocal trainers for Korean pop idols and recorded guide songs for singers. The group officially debuted in July 2016 with the song "She" from their 1st extended play The Action.
Vromance is probably the most underrated band on my list. They have pretty much flown under the radar in the Kpop world, which is a shame as they are extremely talented. This is a vocal group right here, and every single band member can SING. Their vocal skills are top notch, and you can really tell that these boys worked as vocal trainers. Still, I really wish that they got more attention than what they have gotten. If you haven't heard of Vromance please check them out. Some of the members have even recorded OSTs including a song from "Heirs". My favorite songs from Vromance include "She" (which I have linked below), "Star", and "The Jobless".
One of my biases in Vromance is Hyunseok. As the maknae of the group, he is super endearing. I love watching him perform because he is so cool acting. It would seem like he is one of the other members when he really isn't. His voice is super beautiful as well. I always look forward to hearing his parts in songs.
My other bias in Vromance is Chandong. What got me about him was his visuals. He is such an attractive guy both in looks and in personality. He is always having fun when he is performing on stage, and that is really fun for me to watch. Chandong is so precious.
Number 3. Block B
Block B is a boy band created by Cho PD in 2011. The group debuted with seven members: Taeil, B-Bomb, Jaehyo, U-Kwon, Park Kyung, Zico, and P.O. On April 13, 2011, their debut music video for "Freeze!" was released, but banned by the Commission of Youth Protection because they felt that it was too sexy for Korean television. As a result, the song could not be sold to minors under the age of 19, and the video could not be aired before 10 pm. On April 15, 2011, Block B made their live debut on KBS Music Bank. The group followed up with another track, "Wanna B". A mini album, New Kids on the Block, was released on June 23, 2011. On November 23, 2018 Seven Seasons announced that Zico had not renewed his contract with the company. P.O, Park Kyung, Taeil, U-Kwon, BBomb and Jaehyo have re-signed to pursue individual and sub-unit projects. The label said that future full-group activities would be negotiated with all seven members
Block B is one of the first few boy groups that I totally fell in love with. It was during the "Her" era that I got into them, and I think what set them apart from me was how quirky their music videos were. They are truly a fun group of guys, and I have always appreciated the fact that they never take themselves too seriously as a group. That is how we get videos where they rob banks in silly clown masks, or goof around at a circus. I really enjoy Block B as a group, and hope to see them put out music as a band sometime in the future. Some of my favorite songs from Block B include "Her", "Toy", "Yesterday", and so on.
My bias in Block B is P.O. He is another charismatic boy band member, whose ability to perform drew me in from the get go. He has such a swagger when it comes to performing. From his colorful hair to his ability to work the camera, P.O has truly stolen my heart. Not to mention his voice is so cool. It is deep and raspy, and I love listening to his parts because of it. He is also really great on variety shows, which makes me super proud as his fan.
Number 2 (TIED). Super Junior
Super Junior, also known as SJ or SuJu, is a boy band formed on November 6, 2005, by producer Lee Soo-man of SM Entertainment, the group comprised a total of thirteen members at its peak. Super Junior's original twelve member lineup consisted of Leeteuk, Heechul, Hangeng, Yesung, Kangin, Shindong, Sungmin, Eunhyuk, Siwon, Donghae, Ryeowook, and Kibum. The lineup grew to thirteen when Kyuhyun was added to the group later in 2006. Super Junior launched into international recognition following the release of their best-selling single "Sorry, Sorry" in 2009, the title song of their most critically successful album, Sorry, Sorry. Over the years, they have been divided into smaller groups, simultaneously targeting different music industries and audiences.
Super Junior is such a great boy group. They are probably the longest lasting group on my list and you can totally see why. Super Junior has everything going for them, and that has helped them stay so popular with their fans. They are funny. They are great dancers. They can sing. I will always have a special place in my heart for them. Not only that, but they are constantly trying new things with their sound. Some of my favorite songs from Super Junior include "This is Love" (which I have linked below), "U", "Magic", and so on.
My bias in Super Junior is Kyuhyun. The evil maknae himself what drew me in to Kyuhyun was definitely his singing voice. Of all of my biases, his singing voice is definitely my favorite. He's got a range like no other, and I always look forward to the new music that he releases. More than that, what I love about Kyuhyun is his witty sense of humor that drives the other Super Junior members up the wall. I love Kyuhyun so much!
Number 2 (TIED). Shinee
Shinee is a boy band formed by SM Entertainment in 2008. The original lineup was composed of members Onew, Key, Minho, Taemin, and Jonghyun. This changed in December 2017 when Jonghyun passed away at the age of 27. Shinee was introduced as a contemporary R&B boy group by their company with the goal of being trendsetters in all areas of music, fashion, dance, etc. and debuted in May 2008 with their first EP, Replay on SBS' Inkigayo with the lead single "Replay". Shinee is considered to be one of the best live vocal groups in K-pop and is known for their highly synchronized and complex dance routines, having been awarded the Best Dance Performance Award at the Mnet Asian Music Awards three times in a row for their dance performances to "Sherlock", "Dream Girl", and "View". Shinee's signature musical style is contemporary R&B, but the group is known for their experimental sound, incorporating various genres including funk rock, hip hop, and EDM.
Shinee will always have a special place in my heart, as they were one of the first kpop bands that I have ever listened to. I love them so much. They are so silly, and I always love watching them together on variety shows. Not only that but they are super talented. They can sing, dance, act… Ugh, they just warm my heart no matter what they do. As a band, they have not always had it easy. Jonghyun's death has had a huge effect on the band I'm sure, but they have never stopped thinking about their fans. I'm super proud of every one of them. Currently, most of the members are in the military, but even then I'm sure they are working super hard. I can't wait to see Shinee's next comeback in the future. They are wonderful. Some of my favorite songs from Shinee include "Replay", "Married to the music", "Our Page", and so on.
My bias in Shinee is Minho. He is another one of my biases who became officially my bias through watching him in Kdramas. His acting really stuck with me, and also managed to help me decide to choose him as my bias (choosing a Shinee bias had been pretty tough for me). From his good looks to his singing ability, I love everything about Minho. Not to mention he has a super lovable personality.
Number 1. 2pm
2PM is a boy group formed by JYP Entertainment in 2008. The Originally a 7 member group, the line up consisted of members Jun.K, Nichkhun, Taecyeon, Wooyoung, Junho, Chansung, and Jaebeom. The group became six members when Jaebeom left the band in early 2010. The members of 2PM started when Korean musician Park Jin-young formed an eleven-members band known as One Day. Eventually the band was split into 2PM and a similar but independent group known as 2AM. 2PM debuted with the song "10 Points Out of 10 Points", which showcased their acrobatic dance styles.
2pm is the first kpop boy group that I ever became a fan of. Because of this, I will always care for them. Not only are they all extremely handsome, but they are all extremely silly people. I love watching their music videos and the variety shows that they have participated on. They are also extremely talented. These boys have each pursued music solo, as well as acted in various television shows and movies. 2pm is another boy group that is extremely sexy, and will always be the first boy band that I was extremely in love with. If could marry each of the 2pm members I totally would. They are amazing, and I can't wait to see them get back together for a comeback in the future. Some of my favorite song from 2pm include "A.D.T.O.Y." (which I have linked below), "Promise (I'll be)", "My House", and so on.
My bias in 2pm is Taecyeon. He is my first Kpop male bias that I have ever had, and because of this he will always remain at a top spot. Taecyeon is such a talented person. He acts, raps, writes music, and sings.Some of my favorite Kdramas ever are ones that he has acted in. He has also written songs for 2pm that I really love. Also, he is fluent in English as well, which I thought was super cool when I chose him as a bias. Taecyeon is life!
And that was my top ten favorite Kpop boy groups list as of August 2019. I hope that you enjoyed reading it. Let me know what you thought down in the comment section below. Also, feel free to tell me what your favorite groups are. I would love to hear from you all. Thanks again for checking out this blog post. I hope that you will drop by again soon! ^_^